Cars, Trucks, & More For Sale in Colorado
Parker Trailers also sells cars and trucks! View the auto inventory we have for sale at our dealership in Parker, CO.
Miscellaneous
Stock #: AU16593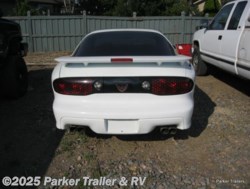 1998 Miscellaneous Pontiac Transam
MSRP:
$9,071.66
Price:
$8,590.59
Sale Price:
$6,500.00
---
DISCLAIMER: Inventory shown may not reflect current inventory. Please call to confirm status of inventory Note: All pricing and information displayed is accurate to the best of our knowledge. We will not be held responsible for typographical errors. Please call us to verify unit information and to get final pricing. Options, weights and dimensions may not be exact please contact a salesperson to confirm. Thank you.
Parker Trailers, Inc. RVs for sale on RVUSA: a Division of NetSource Media